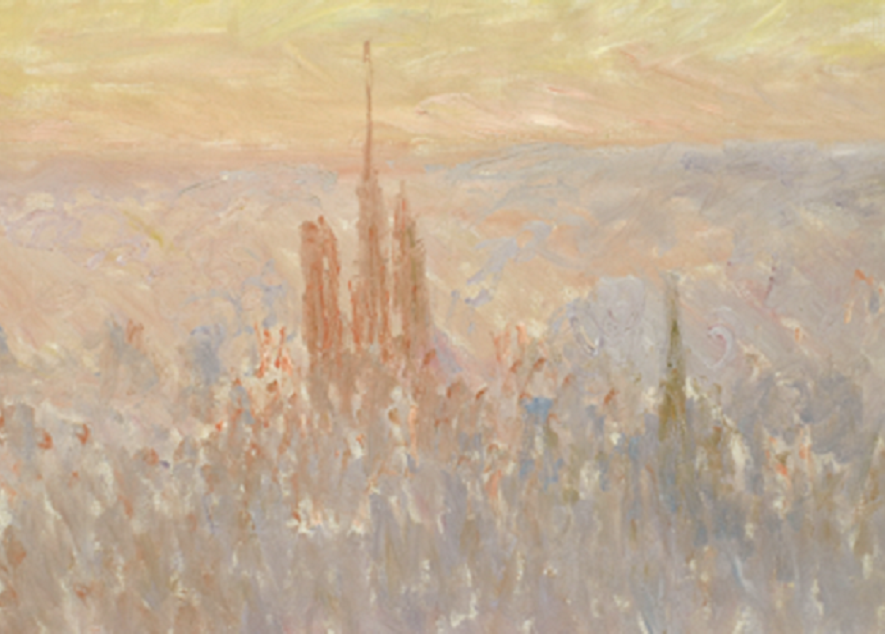 Claude Monet
Vue de Rouen (View of Rouen), 1892
Oil on canvas
Musée des Beaux-Arts de Rouen (RMM)
Claude Monet is undoubtedly one of Marcel Proust's favorite painters, of whom he never missed an exhibition. In 1899 he wrote three fragments on the "Father of Impressionism '' following his visit to the exhibition Monet, Pissarro, Renoir, and Sisley at the Galerie Durand-Ruel.
He mentions the Cathedrals of Rouen (1895) in his essays on John Ruskin and in Jean Santeuil, where he praises "all that Monet is constantly repeating to us: 'God, how there is sun today on the sea, see how the shadows are black and cool, see how the stones are pink, see how far away the boats flutter in a volatilized sea, but also having, the smallest, its little black shadow (F. d'Étretat). See how everything shimmers, how everything is a mirage by this thawing: you no longer know whether it is ice or sun, and all these pieces of ice break and carry the reflections of the sky, and the trees are so bright that we no longer know whether their russet tone comes from autumn or from their species, and we no longer know where we are, whether it is the bed of a river or the clearing of a wood "(at M. Ch. Ephrussi).
What Proust admires in the pioneering genius of Monet, whose painting functions as a "magic mirror", is the figure of an artist as he likes them: inventor of a new way of painting; creator of a new world.